18 - On way to Munich and Wein (Vienna) Now leaving the Gasthof after a pretty good breakfast. Last night we had a few brewskies. It was good bier, I'll probably be an alcoholic by the trip end. We watched some German tv last night, even though I couldn't understand German, it was still weird from what I saw, some of it was fairly normal. Something to note, W.C. in Germany means water closet? or maybe that's just what we call it, anyway it's a restroom, these are marked as WC. Top speed so far for the downhill drive is 202 km/hr by Oskar, which is about 130 miles per hour, and the straight-away is 187 km/hr which is 120 miles/hr I think. This fiat is not too powerful. Something which isn't cool driving here is they have so many trees blocking the view, along the highway. Sometimes the view opens up, in just parts in the trees. A Ferrari 550 Marinella earlier passed us, we were not able to keep up with it :). Now we are in traffic again. Yesterday the traffic was because the road went from 3 to 1 lane, for no reason evident except maybe to piss some Germans off.

Well, went through Munich, barely. We aren't spending much time in Munich because we decided (by the advice of my mom) to go ahead and go to Garmish, supposed to be good stuff there. We'll probably end up in Vienna in the evening. I take back what I said earlier for funny looking cars. In Germany there are quite a few good cars, and plenty of mercedes. We're getting close to Garmish, can clearly see Alps. Well, I kept wondering why so many signs pointing to this place called Ausfahrt, but shows how much German I know. It's not a city, but mean exit for cars, or something like that. We are in the alps now, really scenic mountains.

18 - Garmisch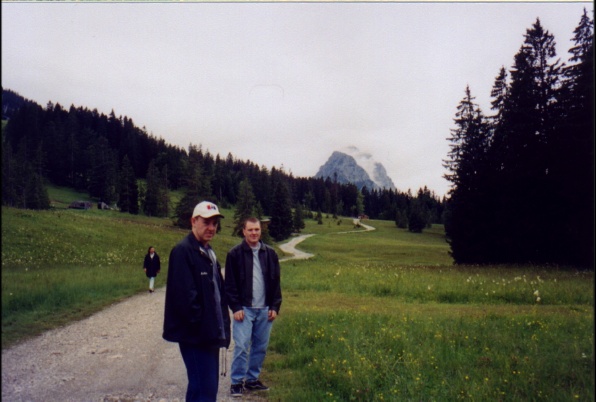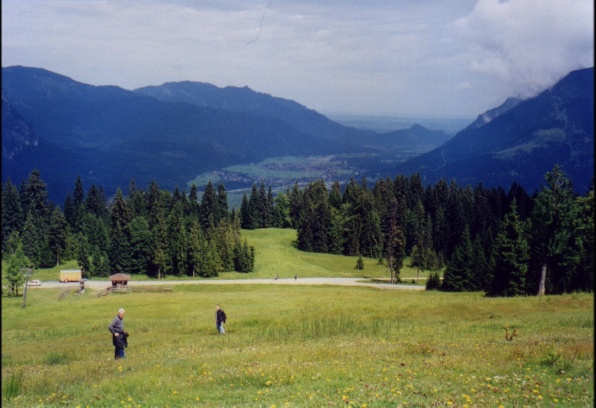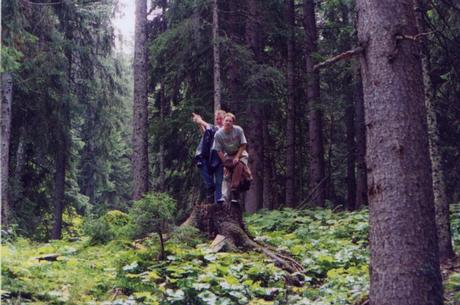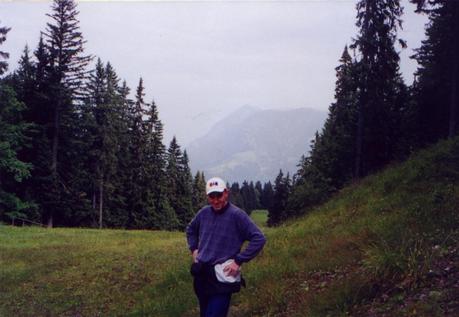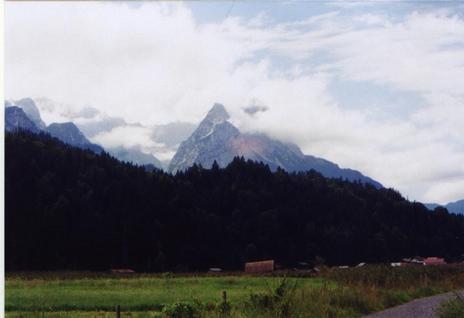 We have arrived, very pretty mountains all over the place (more than this Texas boy is used to). We took a gondolay (lift) to one of the mountains and did some hiking around the alps. We took pictures and saw Zugspitze (tallest mountain in Germany) and the town of Garmisch, it was very cool, all agree.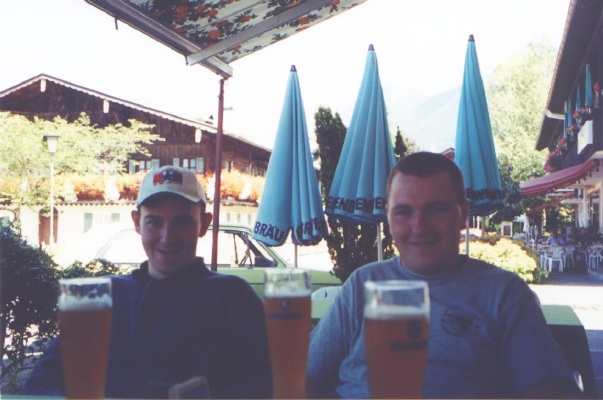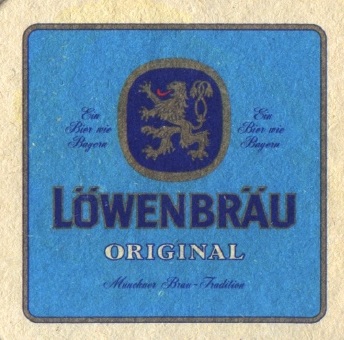 Now we are going to eat and shop in Garmisch. We are now leaving Garmisch, we had sausage and saurerkraut and some original Lowenbrau white bier, it tasted sorta fruity and had a bubble-gum like aftertaste. I picked up a stein here for myself, and then thought about a cuckoo clock, but may try and grab one in Vienna. We are now fixing to leave to Vienna through the alps, after getting some gas. While in Garmisch, the temperature has swayyed a good 15-20 degrees. We've had some light rain and now perfect sunshine. Of course, it's been light rain off and on for the whole trip. We've been through the Alps and Austria, back into Germany. Don't have time to detour to Berchtesgaden(sp).

We are now about 200km from Wien (Vienna) and driving through a lot of great, and I mean great, countryside. I see castles and lots and lots of green with Alps in the background. Also several lakes. This time of year is fabulous for South Germany and Austria (I imagine). If I were ever to have another 1-2 weeks, I'd spend it all here. We still have Poland, Prague, and Germany again after Vienna. I think it is a couple days in Poland (for the brother's grandmother) and back in Germany as their uncle is there (couple days?). Looks like we are traversing through Austria completely in a matter of a few hours, border to border.

Okay back again. I drove after Robert through much of Austria on an autobahn, and into and around Vienna to a place called Pressbaum (North of Vienna), here we got a hotel for 2 nights for about 65 US dollars. We left our stuff, it's now dark, and we are headed to Vienna for dinner (hopefully) and whatever else is there. Tomorrow we will spend all day in Vienna. I think I'm getting the hang of using a stick shift, still no place to eat, I was wondering where all the casinos were in Europe, only saw 1 small one in Amsterdam, but Vienna seems to have them all. We are in downtown Vienna, so many beautiful buildings, maybe famous? I don't recognize any, can't wait to get out for a closer look. To digress, I believe every time I hear Eiffel 65's Blue (da ba dee) I'll think of this trip, since I here it everwhere (but now that I'm back I don't here at all in the states). Whew, Vienna is just plain wicked, saw a new lotus parked in front of a Ferrari, I know I'm in a good place. We have parked in front of a Ferrari dealership as a matter of fact.

We are now headed back to the hotel, so I will recap. We had dinner at TGI Fridays, and had a girl come to our table because she recognized a Texas A&M shirt I had on, and asked if we 3 were students there. We had a good conversation, and her name is Christie. She happened to go to A&M as well for awhile, and was from Plano (now that's close, as I live about 25 miles from). She mentioned she'd be back in April. Vienna is one cool city, and the night life is kicking. We should stay pretty busy tomorrow.

Previous Next