Universal Studios
Note! Text that is in blue will be written by me (Art), whereas everything else is being written by Seth. I'll try and keep this habit up for the remainder of the site.
We started off at Universal Studios. We knew we'd be here most of the day, and we were correct. Luckily it wasn't really crowded so we got to do everything we wanted in the amount of time we had decided on. Here we are near the entrance to the park.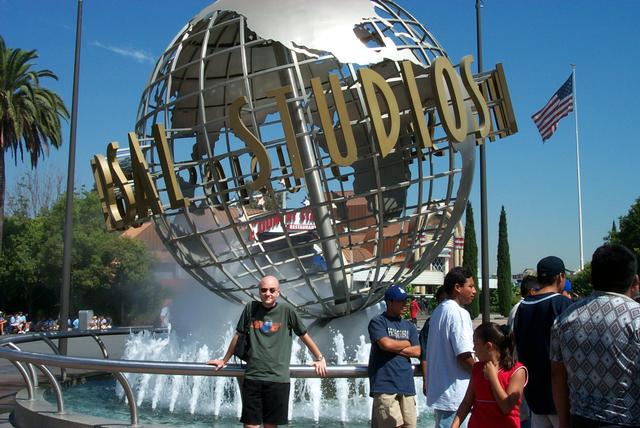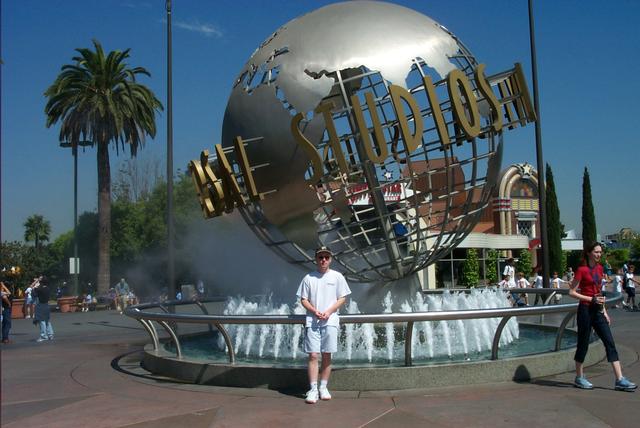 We then went directly to the Terminator 2 3D attraction. After a short wait we were shuttled in to a large auditorium where we were seated. The show began and it was truly spectacular. A completely seemless integration of conventional movie, three dimensional effects, live action, and pyrotechnics. A very impressive show. I think the single most interesting thing was that they weren't using no-name actors to play the famous roles from the Terminator series. Nope, they used the real Arnold, Linda, etc... from the actual T2. Of course, the live action parts were played by ``Joe and Jan wanna-be an actor'', but it suprised me.
The show was excellent, quite possibly the best ride we were in while at universal studios. Not only was the 3D aspect entertaining, but there were other nice extras. These included seats that could make subtle movements, air that blew down from overhead, when a helicopter (future heli) would fly over, or a fine mist sprayed whenever a new T2 got shot and bubblies went flying everywhere.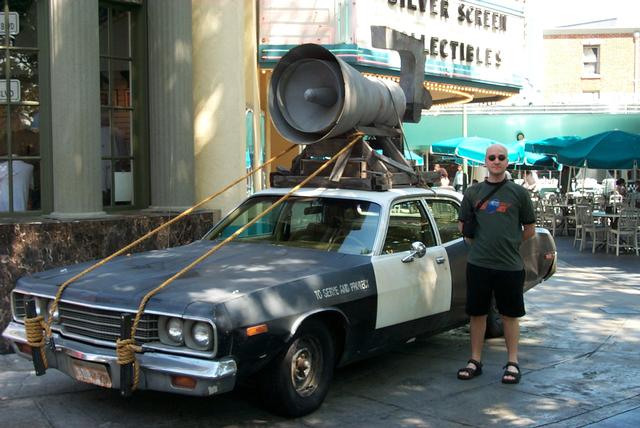 We then took a huge assembly of escalators down (about 400-500 feet) to the ``bottom'' of the park. We went to the Backdraft attraction where they proceeded to blow up an entire set and then put it back together in a matter of seconds.
The Backdraft started out kinda lame, where you went to a couple rooms and watched a video monitor, but the final room was quite entertaining. It got *real* hot in there, it felt good to get back outside.
We then visited a real movie set. It was the set from the ``current smash-hit'' Klumps movie. Not the most interesting movie from my point of view, but it was interesting none-the-less. Here's a picture from that.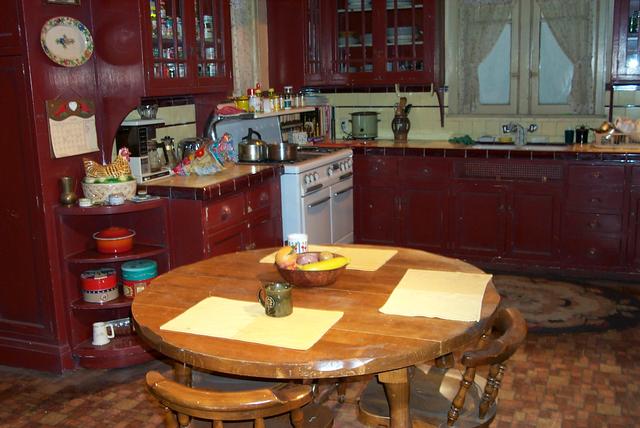 At this point we finally had a relatively long line. We stood in line for about 30-40 minutes for the Jurassic Park ride. It has a huge splash at the end of the ride. It also has a huge entrance to the ride.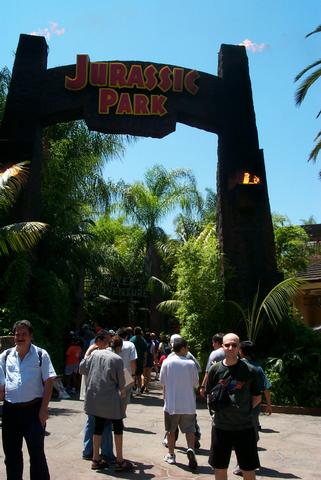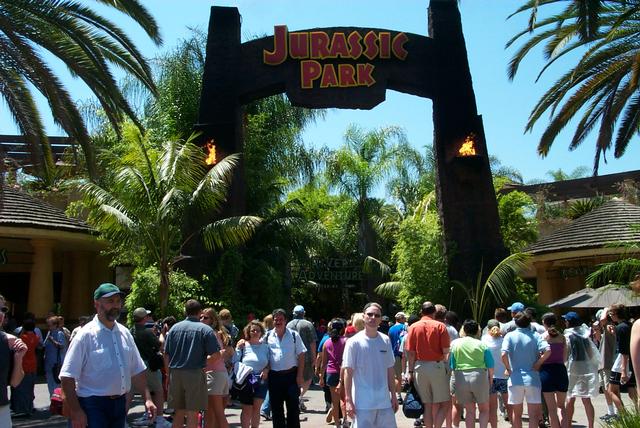 We ate lunch and proceeded to the studio tour. The tour was very interesting. I got the motherlode of pictures from the tour. Without further rambling here they are. One of these pictures is where they filmed part of Gladiator. Hopefully it's obvious which one.
We both got a harpo burger and fries. It was expensive, yet satisfying. Seth has been mentioning eating at some places we couldn't normally eat at in the metroplex, such as Carl's Jr. and In-'n-out Burger (from the movie Big Lebowski?). I suspect we'll patronize those places soon (digress). The tour was a plus, and definitely recommended to anyone that visits this park. It was good to have an opportunity to sit awhile. We went by many "studios", where such things as liar liar and apollo 13 were filmed. I also noticed Dino De Laurentis(sic)' parking space, I believe he directed the movie Dune.
The Western sets were described as being home to more shows than any other sets. I believe a great deal of John Wayne's films were here, among others.
Pictures from the backlot: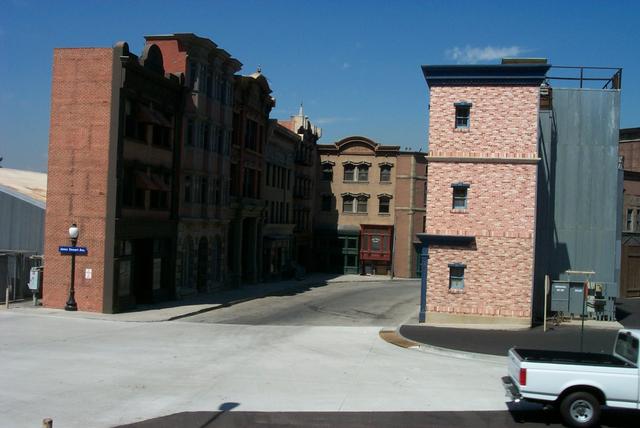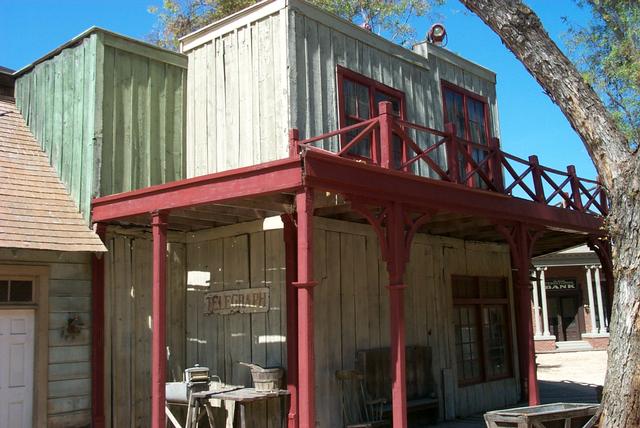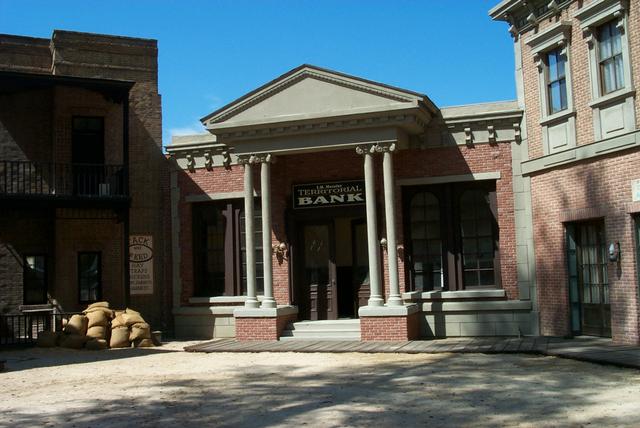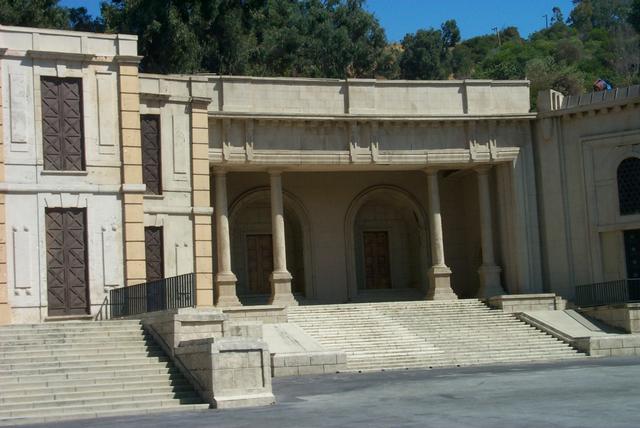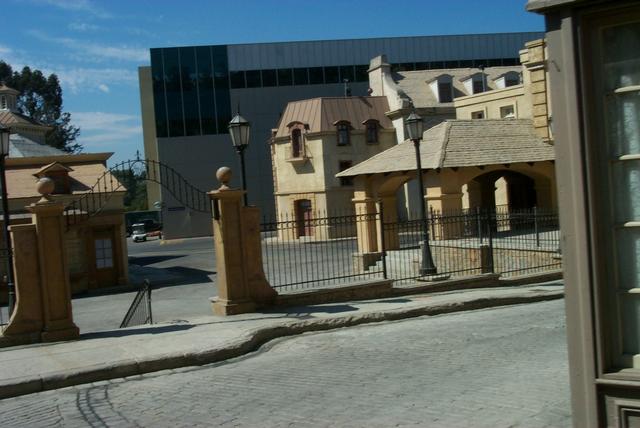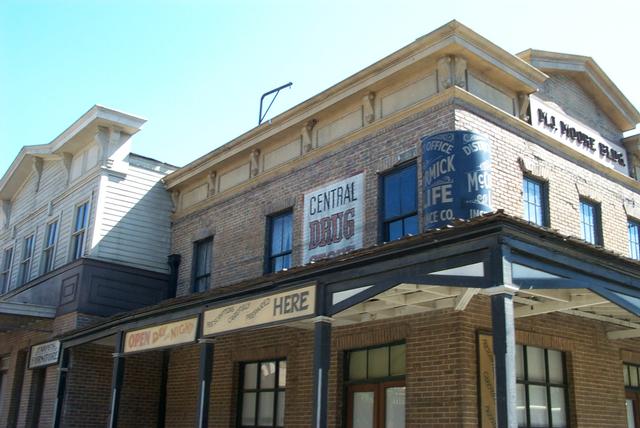 Pictures from the ``Jaws'' part of the tour: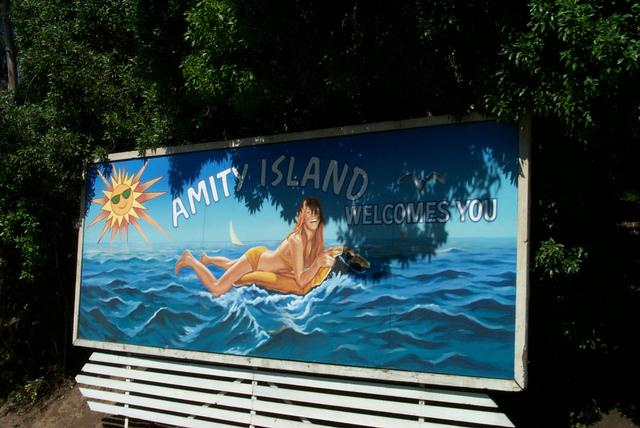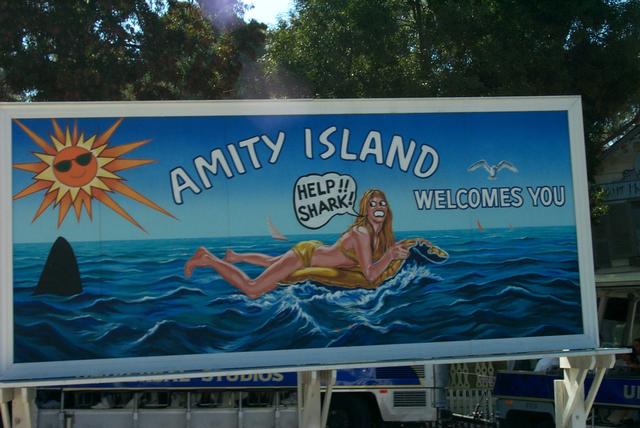 We almost got killed by King Kong: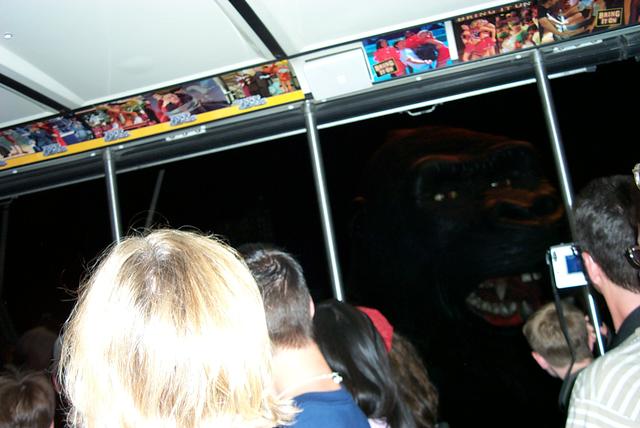 A picture while we were above the studios: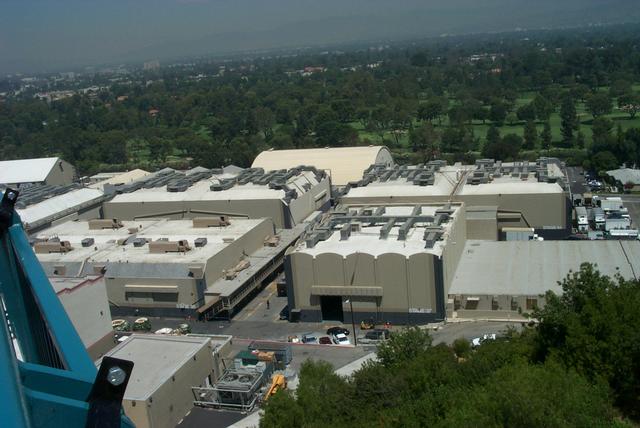 Bones from Jurassic Park: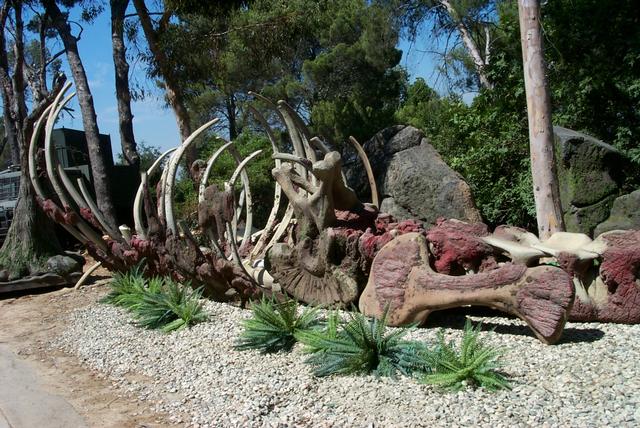 A miniature set. It's approximately 5/16 scale: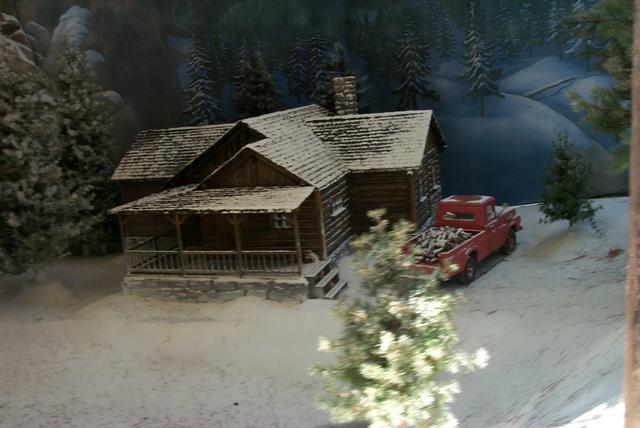 Pictures from the upcoming ``Grinch That Stole Christmas'' move:
We had to be quiet while taking these pics, as apparently there was some live shooting going on. But I didn't notice anything like that. We did see the studio where Jurassic Park 3 is being filmed (outside of), today is the first I learned that a #3 was in the works. Also, I'm not sure if a face-shot of the Grinch has been revealed in any trailers, but we were treated to a unique trailer (only shown to universal tour guests) which did reveal the Grinch's form/face, and he's quite changed and looks practically nothing like Jim Carrey.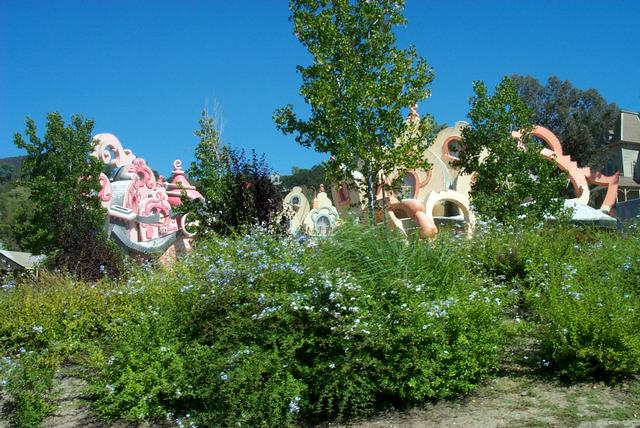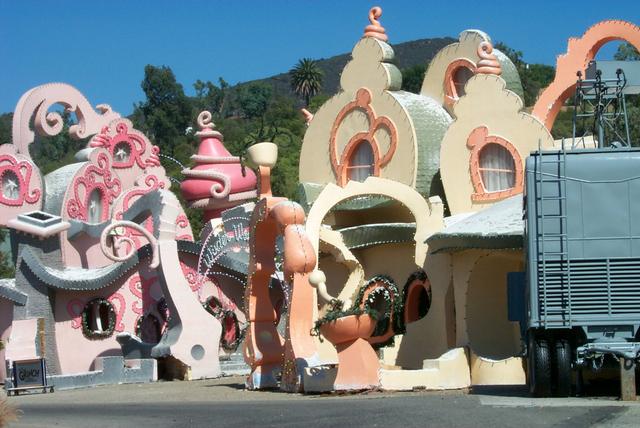 This is a watertank where they film lots of underwater shots through the ports on the side of the tank:
Specifically, shots filmed in this tank were
Kramer (Seinfeld) when he is swimming in the river

Dragnet when Tom Hanks and Dan Akyroyd fight the snake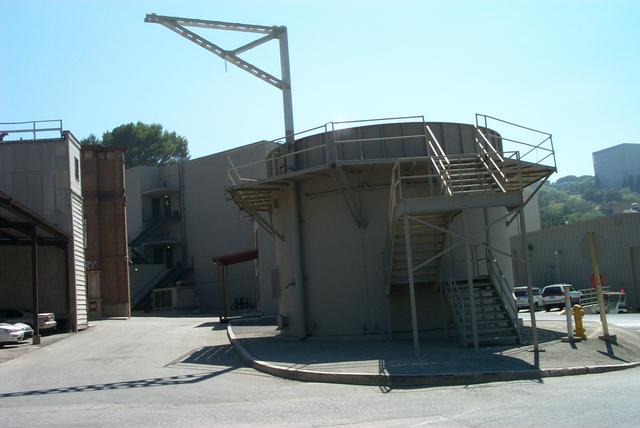 Alfred Hitchcock's office at Universal: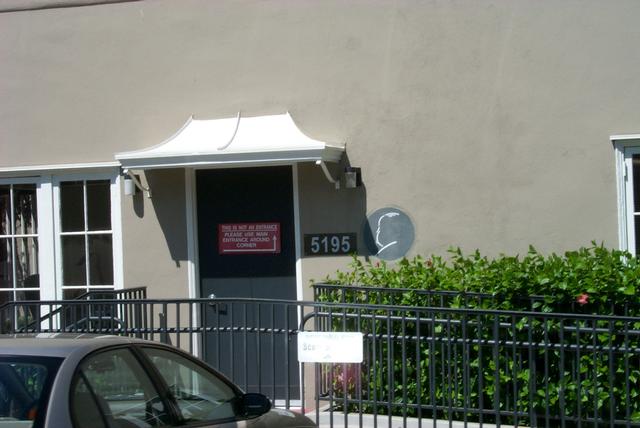 We then went to one of several live shows they have at the studios. Here are a bunch of pics from the ``Waterworld'' show. How did they light the water on fire?
We weren't close enough to get wet, but it was a real good show. Heck, it may have actually been more entertaining than the original movie :) There were over half-dozen actors in this, and they were (just about) all from various shows, movies. I guess they were doing the Waterworld thing for some extra spending money.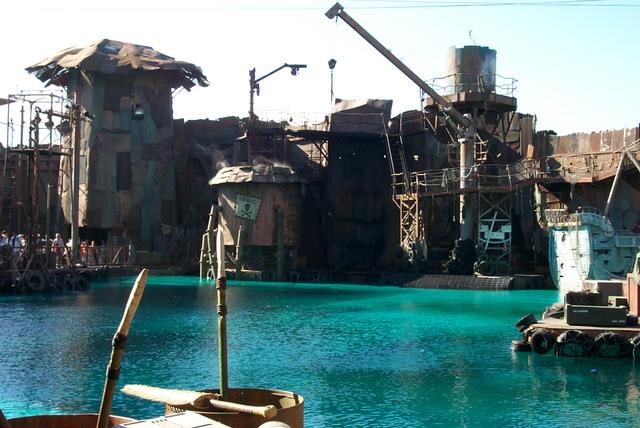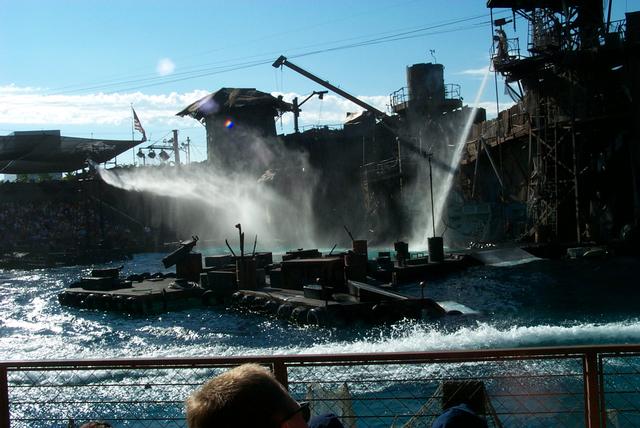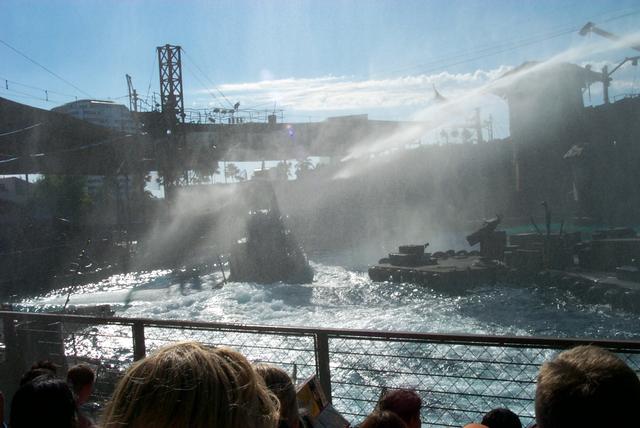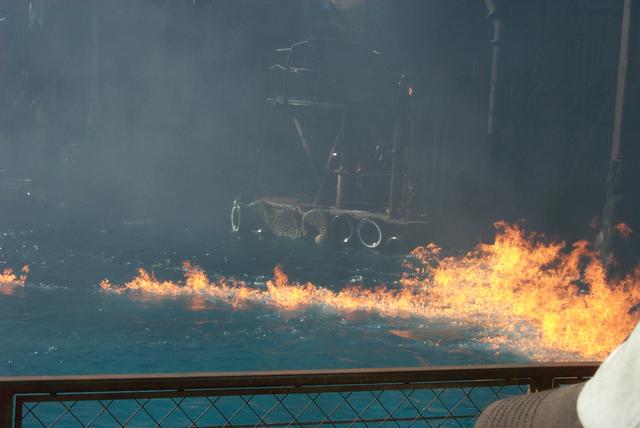 Here's a picture of Warner Brother's studios from a distance.