First Day on the Beach
We got up today extremely late. We had agreed to sleep in, but this was ridiculous! We left the Sheraton of Industry City for good at noon, and we were off to the beach. Specifically we were headed for Manhattan Beach. I was told that it was a great beach for hanging out, sunning, and great ``scenery''. We would not be disappointed.
On the way over, I picked up some new trunks (cargo) and a beach towel (Seth got one too). We then stopped over for lunch at the In-n-out burger. I didn't know it was drive through only, but it is. Not too bad eating, maybe a step up from burger street. We then drove towards the the coast, and went through Hawthorne, where one of my company's (Northrop Grumman) plants is located at (we didn't stop).
We got to the beach, and I was immediately impressed. The sand wasn't hot, the weather was fantastic, and it was a spectacular sight. I hadn't been to a beach for some time. I vaguely remember a trip to Rocky Point when I was very young, but that's the last time I remember having any extended time on a beach.
Well, I thought the sand was hot.. at least during the time of day, when we first arrived. We got there, and Seth proceeded to lay out. I went out on a quest to find a volleyball game, as the beach was just littered with posts and volleyball nets. The first group I tried to invite myself into decided they were done playing, but I managed to hit the ball around a little with a second group. I then walked up the pier (I think a picture of it is here) in hopes of getting a frisbee, but didn't find any.
A few more words about the weather. Can it be any better? The temperature was around 85 degrees for most of today with a constant light breeze which made it unbelievably great. I can't believe the weather around here. It's the best. How can I go back to Texas now? I want to live here on the beach. Or, at least, near the beach. For me this was the best day we've had so far. I can't imagine any other day being better.
Some people call it a divine experience, and some other people call it a moment of zen. Whatever you call it this is what I felt today. The beach is a fantastic place. I want to stay. I didn't want to leave tonight. I already want to go back.
Actually, I don't believe the temperature got much above 80-81, but it was comfortable. The water wasn't as cold as I thought it would be. I waded out a ways into it, but didn't do any boogie boarding or surfing.
Anyway, enough of that. How about some pictures? Here are the first pictures we took at the beach.
Seth having fun in the sun.
This was the very first shot we took, I think it was about 3 o'clock. Seth decided to lay out right away.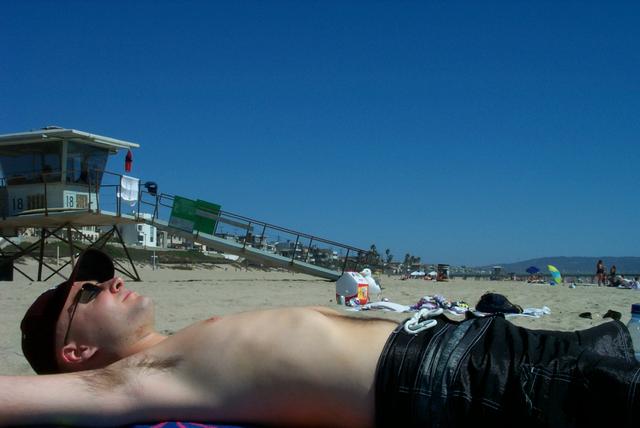 The Manhattan Beach pier.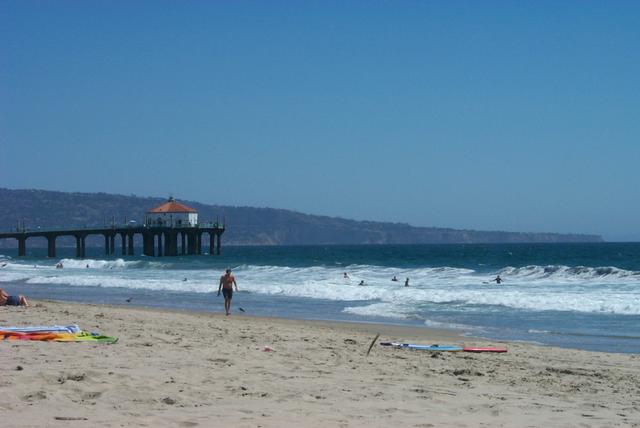 After about 3 hours of sunning bliss we decided to rent some bikes and go down the coast. We started off at the Manhattan Beach pier and took off (southbound) down the coast. We went through Hermosa Beach and then on into Redondo Beach. The paths along the beach are phenomenal. They have two lanes and two seperate roads. One road for running and walking, the other for bikes and in-line skaters. The paths extend along the entire coast as far as I can see.
The bike ride was an excellent suggestion by Seth, highly recommended and not real expensive to rent. At the pier we each got a soft pretzel before heading back, I think the trip to this pier was several miles.
The Redondo Beach Pier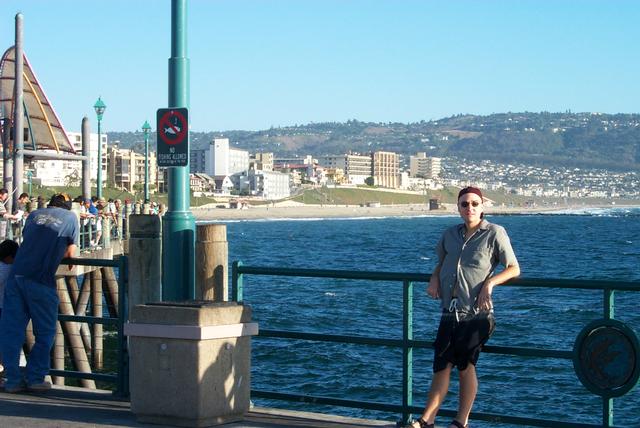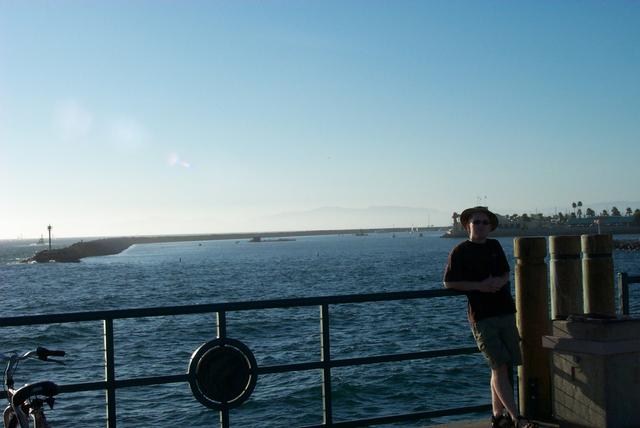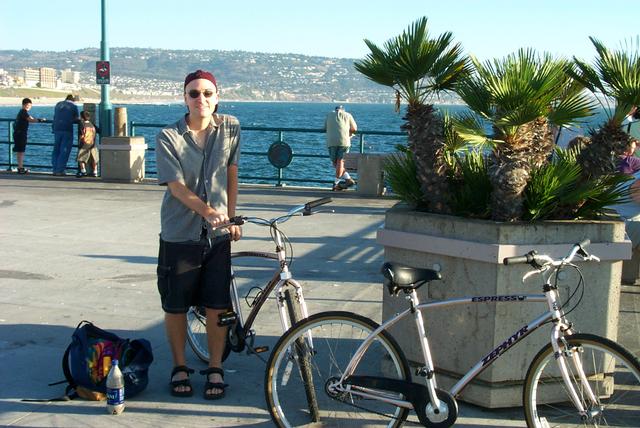 A few more beach pictures. Sundown is coming.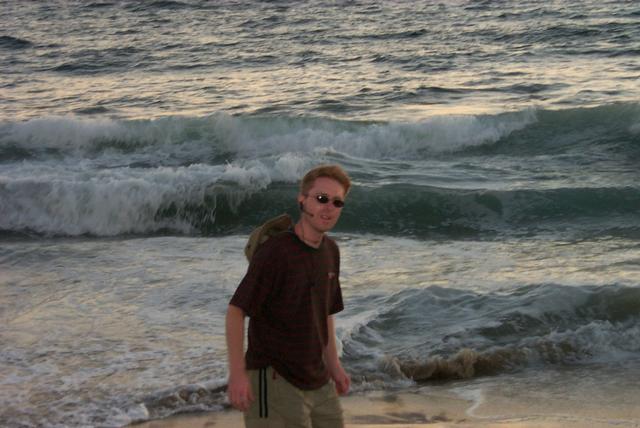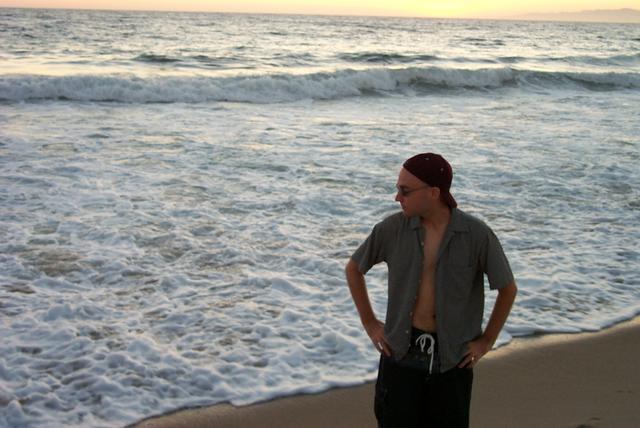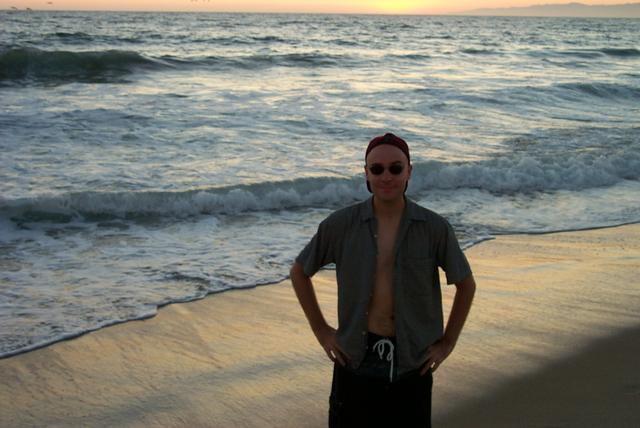 A few pictures of sundown on the beach.
I was having a phone conversation with Cristina when these shots were taken.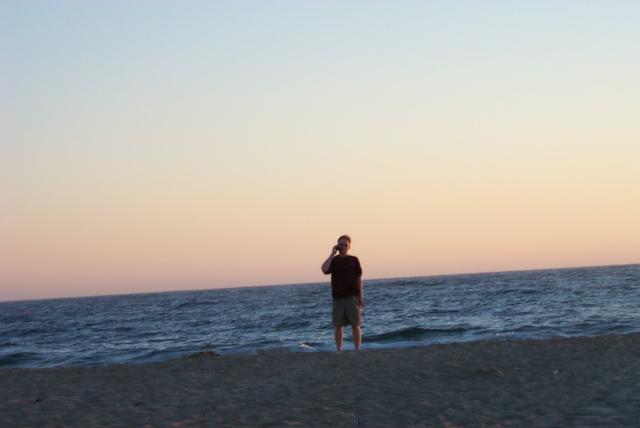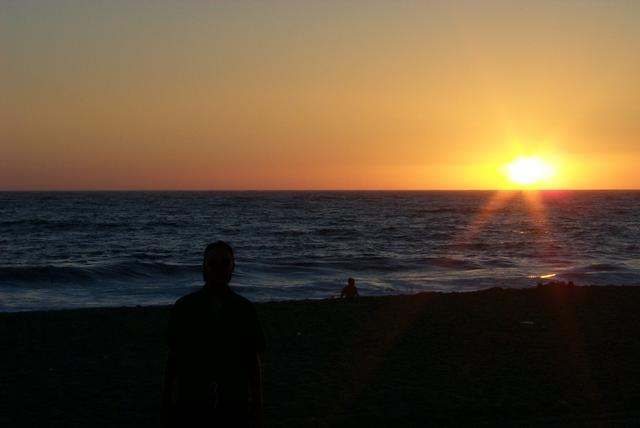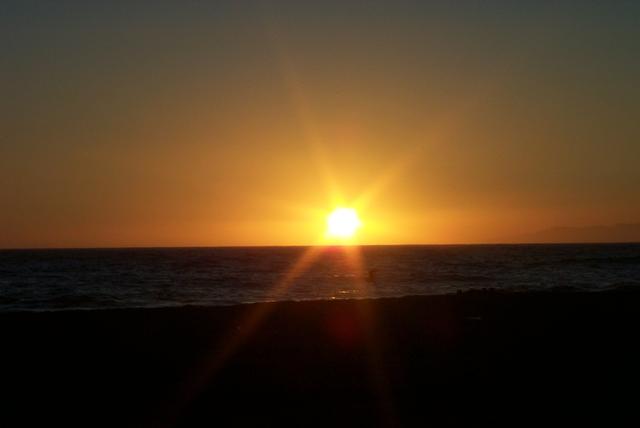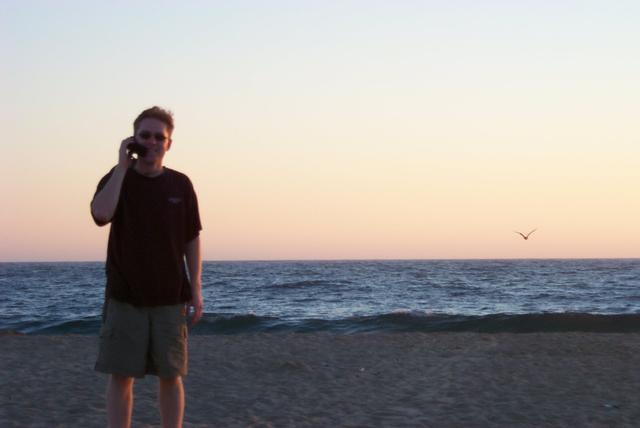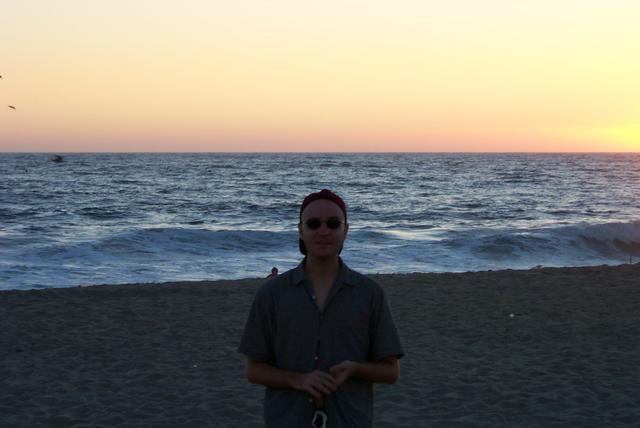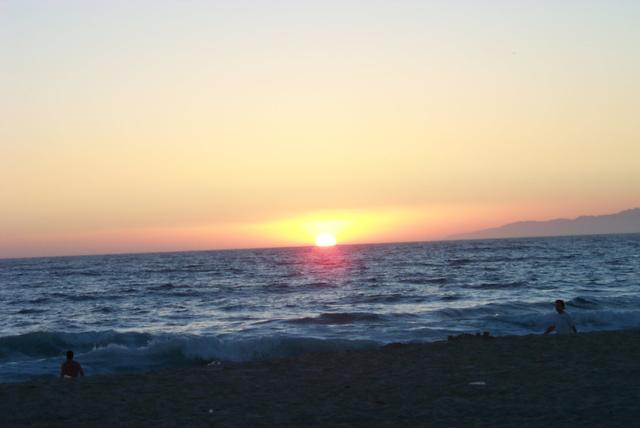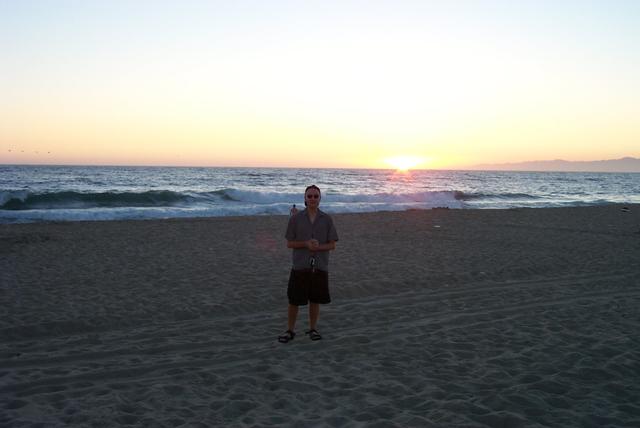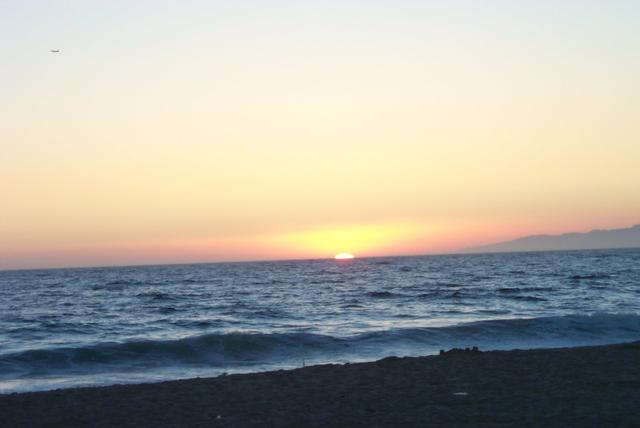 We then walked down from Manhattan Beach into Hermosa Beach and wandered around. All the beaches seem to have a central area where they have lots of restaurants and shops. We ate at a place called Brewskis of which there is a picture below.
The "rings of light" you see in the pics are lights going around palm trees. The tops don't show in the night-time pic. After taking these shots, Seth and I walked back, about 2 miles I think. We went down to the surf and walked through that some more on the way.
Hermosa Beach at night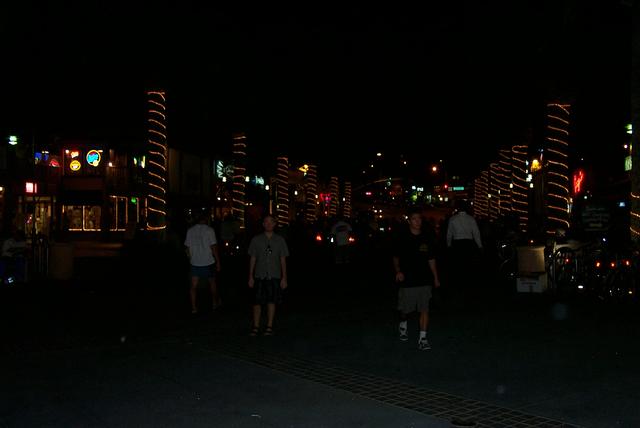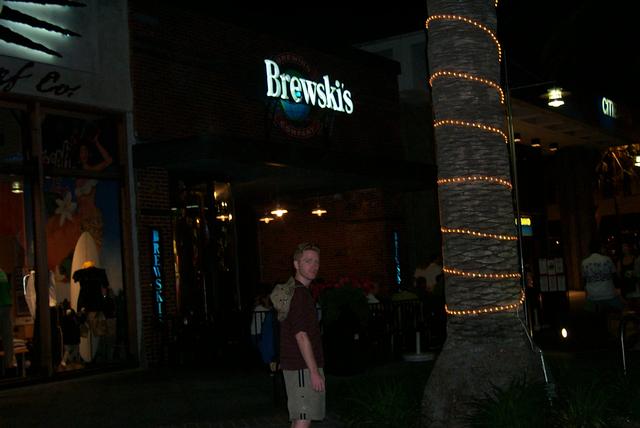 Final thoughts ... I think Seth likes it here, and he's even picked out a few spots to live. We still haven't figured out how he is to earn income while beach-shacking, but I think he'll just have to lean on early retirement. It is possible that we might alter the "plan" to get one more day of beach (long beach?). Looks like I got a sunburn spot on my back (missed a spot), but other than that I don't think either of us has been singed much (despite the fact that we usually sit behind a computer all day and don't see too much sunshine). Venice beach tomorrow, should be fun.