First Full Day In Los Angeles
We woke up today at 5:30 (!). We figured we needed to get to Burbank early to get in line for Late Night tickets. We were correct. Not too long after we had received our tickets they started handing out ``standby'' tickets. Your chance of getting into the show with standby tickets is about zero. Seats still weren't guaranteed though. We needed to be back at Studio 3, Burbank, by 2:30 (technically we needed to be back by 4pm, but we figured that the earlier the better).
In the meantime, we took a drive around Beverly Hills and Bel Air. How many big houses can there possibly be? A lot! We went down rodeo drive, and the Sunset Strip. The entire area was very expensive and very posh. Here are a few pictures to whet your appetite. The first is just a really impressive scene with lots of palm trees. The rest are a small sample of the huge houses we saw.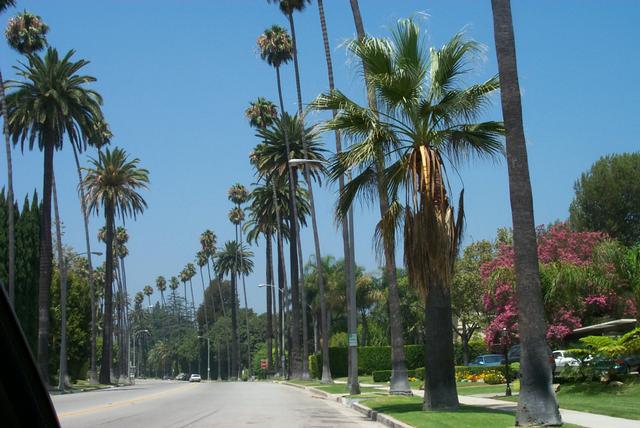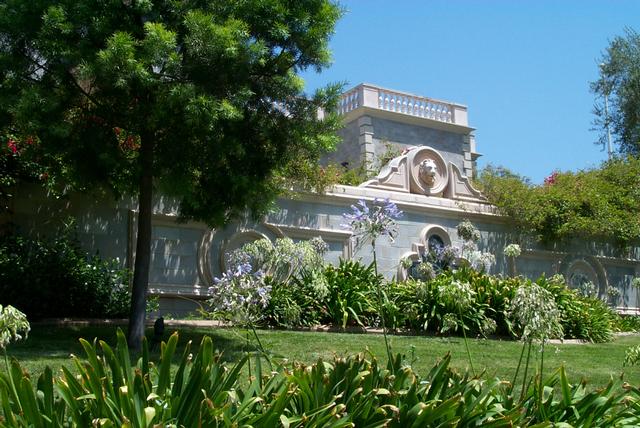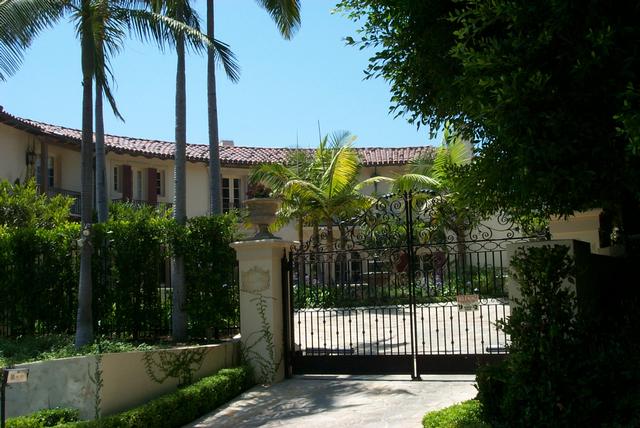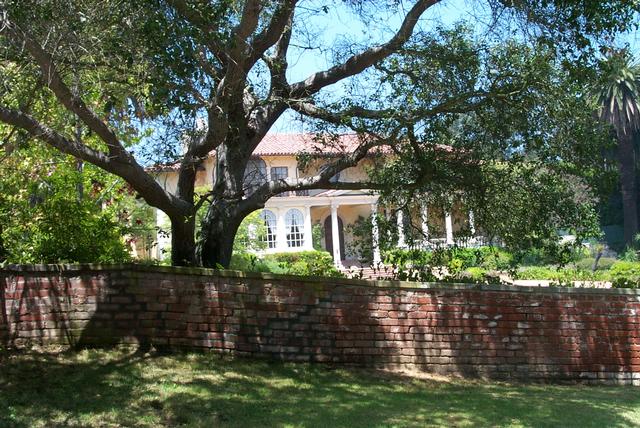 We then attempted to find the Hollywood sign, but couldn't after getting lost about a hundred times. We'll find it on Thursday...maybe. We also passed a bunch of studios. Since we're going to Universal City tomorrow we didn't spend too much time with studios.
We went by downtown LA a number of times today. The smog was very heavy today (I guess...it probably was ``normal''). Below are a couple of pictures. Downtown LA isn't as impressive as I might have thought. The buildings are plenty tall, but there really aren't that many tall buildings. I figure it's typical for most west coast big cities. The areas are so spread out there has never been a huge reason to build lots of tall buildings.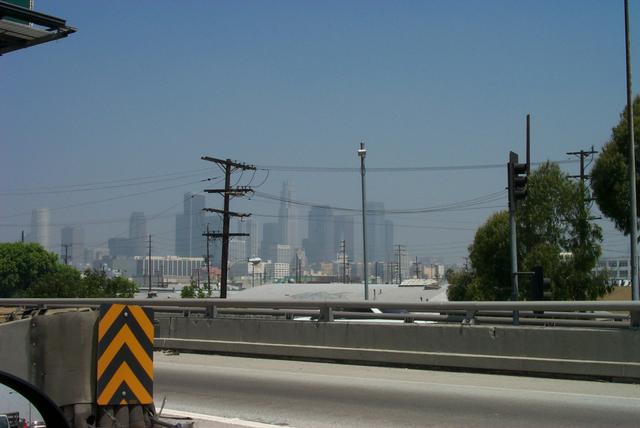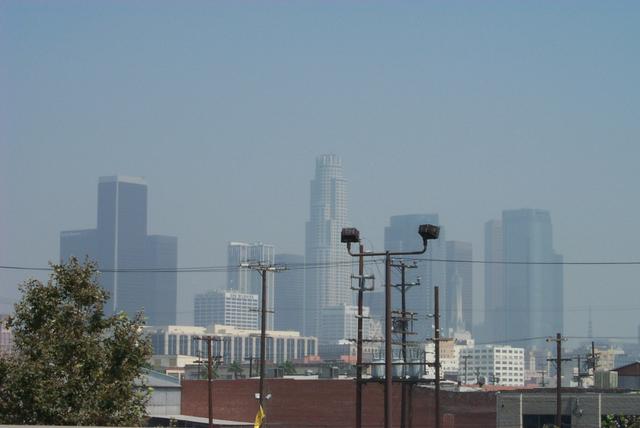 The biggest disappointment so far was Chinatown. They might as well call it ``Normal buildings with Chinese lettering'' town. Nothing of note there. Very anti-climatic.
We were back in Burbank by 2:15. Art got out and waited in line while I spent 20 minutes looking for parking. I actually had to parallel park! It turns out I'm an excellent parallel parker. Anyway, we stood in line until around 3:30 when a bunch of assistants came out and put down some ground rules (no recording of any kind, no talking, etc...etc...). They let in the first 55 people in line. We were 58th and 59th. Then they let in the ``guest list'' people. There must have been 80-90 guest list people! We thought all hope was lost, but they ended up letting in about 50 more people.
We got to sit on the second level which were actually great seats. Jay Leno came out about 10-15 minutes before the show and primed the audience, took pictures with a few people, and was generally very friendly. I was really suprised that he did the priming. I figured they'd get someone else to do it. The show was pretty average, but it didn't really matter. I just saw the actual airing of the show and we're both actually on TV. About half a second but we're in there. Here's some pictures of Jay Leno leaving the studio after the taping as well as two unidentified people who happen to be standing next to the Late Night sign.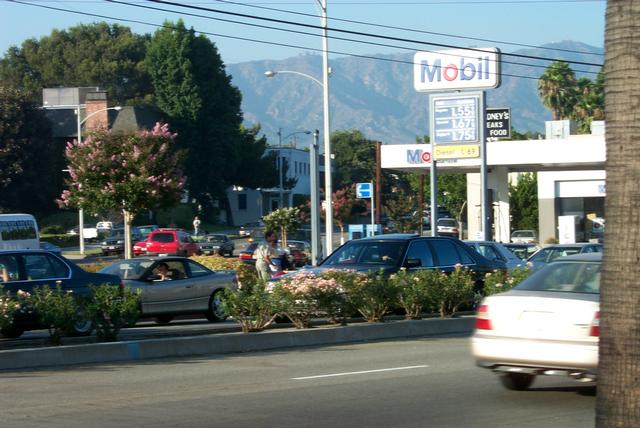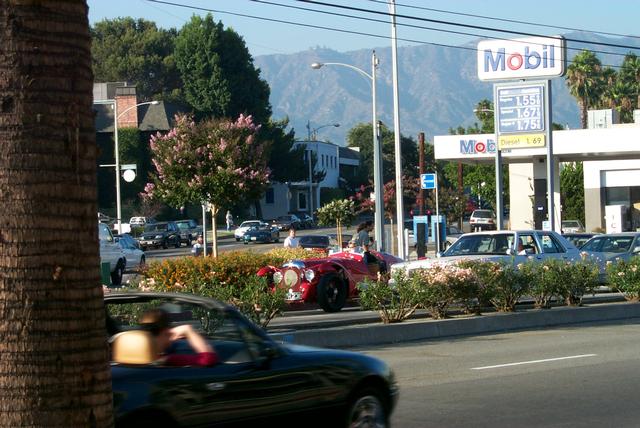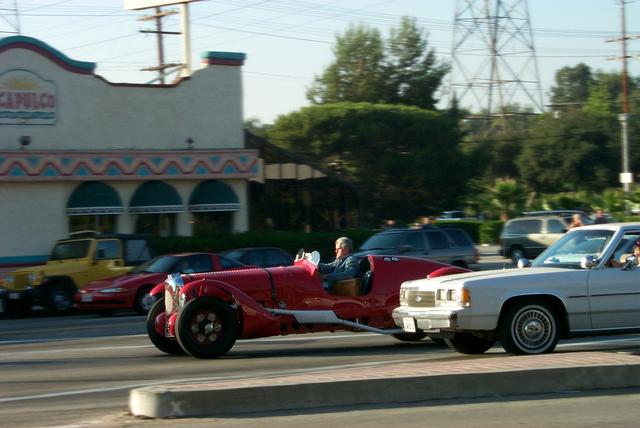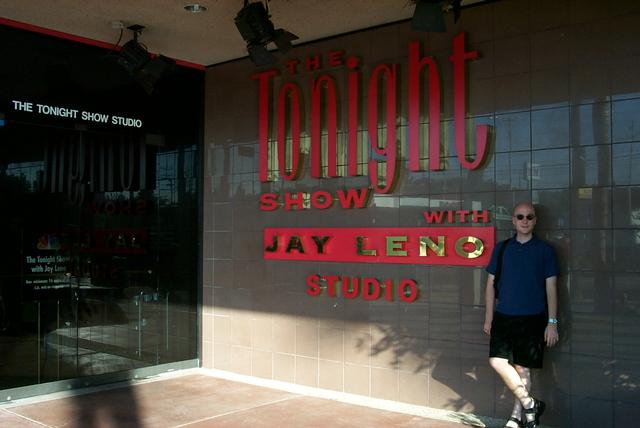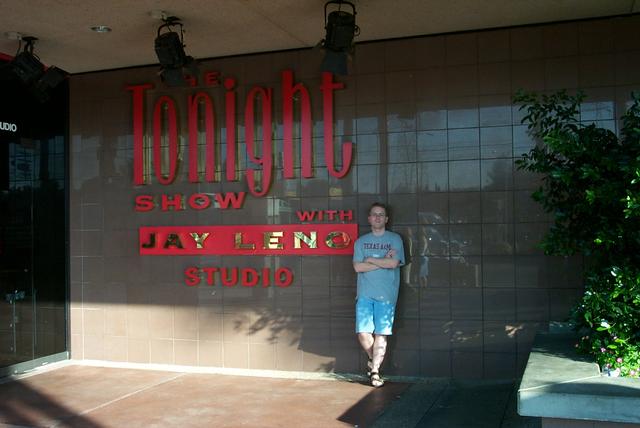 After the show it was off to Pasadena. Is the weather always so great around here? We were walking around ``Old Pasadena'' and the weather was tremendous. Not too hot, not even close to cold, and a nice cool breeze blowing. We're definately going back to Pasadena tomorrow and spending some more time out there. In particular we'll be eating at Gordon Biersch which is supposed to be a great place to eat and have a few good drinks. We'll let you know!